Media Rooms in Austin, TX can be just as good as a Custom Built Home Theatre Room. Well aren't they the same darn thing? Yes and no, it really depends who you ask. I see a media room as a room with home electronics, video system, speakers, subwoofers, surround sound 5.1 system, and other equipment for movies and entertainment, but lacks the full blown construction that a theatre room maintains!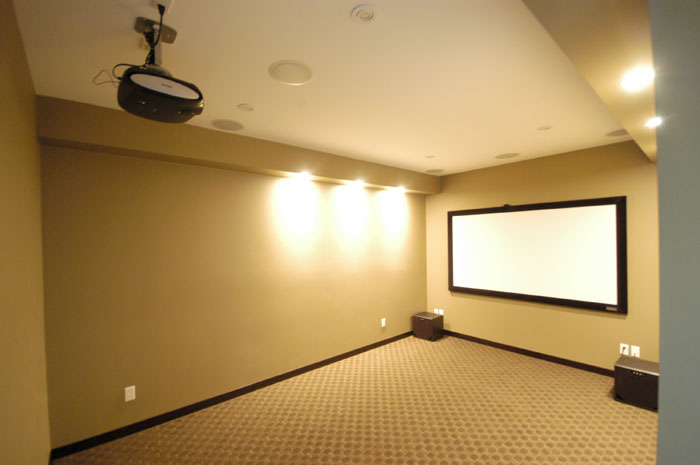 Austin Media Rooms are so much more abundant these days! Home Builders are finally coming along with the times! In today's day and age, many home builders are having homes pre-wired for they're clients. Well they're clients are asking for it in record numbers too, its just becoming a new standard! The ability to have speakers, hanging lcd or plasma tv screens, and home audio distribution in virtually every room in the house is amazing. How about controlling your whole electronics setup via one remote? Is that cool or what?! We can help with either Harmony Brand Remotes or Universal Remotes! Capitol Audio Video provides Custom Home Theater Room Design, Installation, Integration and Sales. Much of the custom equipment that we sell, you cannot find at your local high end home theater retailer, nor online. We focus much of our efforts on providing totally customized systems to each of our clients. For Media Rooms in Austin, sometimes we sell our clients very nice projectors, and other times (when on a budget), we provide them with large Flat Screen TV Installations. Typically to buy a beautiful projector and screen it will cost more than a large LCD TV. Whether or not you are in search of media room equipment, or a custom built home theater room, give us a call today to discuss your needs. We will be sure to educate you on the latest and greatest home technology, home automation systems in Austin, distributed audio, and outdoor audio video that is available!
We service the Central Texas and all Austin areas with Home Audio Video System Designs and Installation. We pride ourselves on hard work, expertise, and efficiency. We keep quality and service as our highest standard!
Thanks,
Capitol Audio Video Team!
512-589-1747
Austin Home Theater Services at your request!
Austin Smart Home Automation Services!
Home Theater Company in Austin is Capitol Audio Video
Home Theater Design & Installation Austin HomePage
Austin Home Audio and Video Distribution Systems
Austin TV Wall Mounting Installation Information
Austin Home Theater Design with Construction and Professional Installation
Austin Home Theater Packages for your media room
Austin Home Theater Systems Custom to your needs
Austin Texas Low Voltage Network Wiring and Structured Cabling System for your New Construction Home