We had a really neat opportunity to work with a new home being built this week. What we're doing is low voltage structured home audio wiring in a new house that is being built in Austin. This residential project is one of many for the year considering we do quite a few home audio wiring each year, in addition to completing the home theater system installation once the home is built. This portion is known as the pre wire phase. No drywall is up yet, just us running audio video wires to the right places to meet the homeowners needs. For more information about us, Capitol Audio Video, visit our Austin Home Theater Company Homepage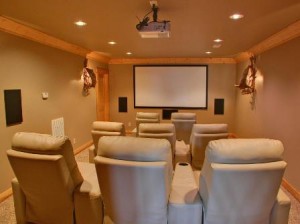 Do you need whole home solutions? We specialize in the best Modern Technology Integration solutions available to make your life easier. These systems integrate into your new construction or existing home. HVAC, Security, Audio/Video, and Lighting controlled from one device! Learn about how Apple is getting involved in our Home Automation Systems, with I-phone controllability from anywhere in the world! From minimal control for lower budgets, to full blown Whole Home Automation, we deliver. Austin Home Automation Control Systems

This project will take roughly one day to complete in Southwest Austin Dripping Springs area, and we will save the client a substantial amount from what the custom home builders charge to complete this project.  The main point is that we will use high quality wiring, and make the correct runs. Unfortunately often times the home builders who sub this work out to electricians in Austin, Georgetown, Lakeway, Horseshoe bay, etc. who do not understand all of the wiring needs which can be offered with all of the new home technology out there! We enjoy what we do, and even more than that, we enjoy seeing our clients excited about us offering a affordable, dependable service for a competitive price.
So what we're doing is getting all of the speaker wire "dropped" down the framing, and set up where it needs to be for the home owner to have his speakers installed when it is completed. Its really neat to visualize what these homes will look like after they're finished. What we are putting together for this home is ten separate drops and three 5.1 drops. In Lehman's terms, a drop refers to running wiring in a room where 2 speakers are set to be installed. We're running drops everywhere from the garage, to the outdoor patio, to the kitchen, etc. The other "5.1" drops require us to prepare for 5 different speakers in each room also known as a surround sound room here in Austin TX, and could be called a home theater or media room as well. The client wants 3 different rooms with full 5.1 surround sound systems. One upstairs for his sons video game room, another media or custom home theater room upstairs, and the family entertainment room downstairs. Typically the Home Theater Installation Room will have the most decked out equipment and the nicest Audio Video Systems when all is said and done.
We are looking forward to getting this project completed, and even more excited about installing the complete Home Audio Visual System once the home is complete. This will be an elite Home Entertainment System throughout. This will not be a smart home, nor use home automation or home integration in Austin, but will be a top of the line Home Audio Video Project. The final touches will include Quality Speakers, amplifiers, and subwoofers, Denon Receivers, Pioneer Plasma's, universal remotes, volume controls, and infrared radio frequency repeaters, etc.
In Central Texas, if you're looking for an affordable option to high priced Home Theater companies, Custom Home builders, etc. then we have a solution for you. We operate a small company, but our professionals have had years of experience in jobs from: Mounting Flat Screens, Installing Flats, Installing Surround Sound, Pre wiring, Home Integration, Home Automation, Smart Homes, Home Theater Design, In wall and in ceiling speakers, volume control boxes, programming and setting up all systems and remotes, etc. We work in areas throughout Greater Austin, Austin Westlake, Lake Austin, Lakeway, Lake Travis, Marble Falls, Horseshoe Bay, Dripping Springs, Georgetown, Round Rock, Cedar Park, Pflugerville, Central Texas, Canyon Lake, San Marcos, New Braunfels, Buda, Kyle, Spanish Oaks, Downtown Austin, or Lake LBJ We look forward to helping you with your next project!
Thanks,
Capitol Audio Video TEAM!
Read more about what we do here at Capitol Audio Video!
Other information from Capitol Audio Video about Home Theater and Home Automation in Austin:
Austin Media Room Design, Installation and Ideas
Austin Home Theater Services at your request!
Austin Smart Home Automation Services!
Home Theater Company in Austin is Capitol Audio Video
Home Theater Design & Installation Austin HomePage
Austin Home Audio and Video Distribution Systems
Austin TV Wall Mounting Installation Information
Austin Home Theater Design with Construction and Professional Installation
Austin Home Theater Packages for your media room
Austin Home Theater Systems Custom to your needs
Austin Texas Low Voltage Network Wiring and Structured Cabling System for your New Construction Home