We Design Spaces
Your home is comprised of much more than "stuff". The positive feel, sleek look, and magical sound derived from your home audio/video, automation, and technology systems is one to remember and cherish when done right. We design spaces that make your home a more entertaining, easier to manage, and fun place to be, whether alone, or with a big group of guests. We start by educating our customers about the latest and greatest technologies, and help them fit their lifestyle around a system that meets their goals and budget. The truth is, you can go mild or wild with home electronics, and it's all up to your taste & preferences. Whether the space be a new construction, remodel, or retrofit system installation, we have the tools of the trade and the expertise to create an amazing space that will give you that exciting feeling, and something to look forward to when you are at home. Learn more below about how you can take some of the most common areas in your home, and give them the wow factor that will make you happy.
Whole House Systems    Main Living Area    Theater/Media Rooms    Your "Wild" Outdoors    Game Room    High Fidelity Perfection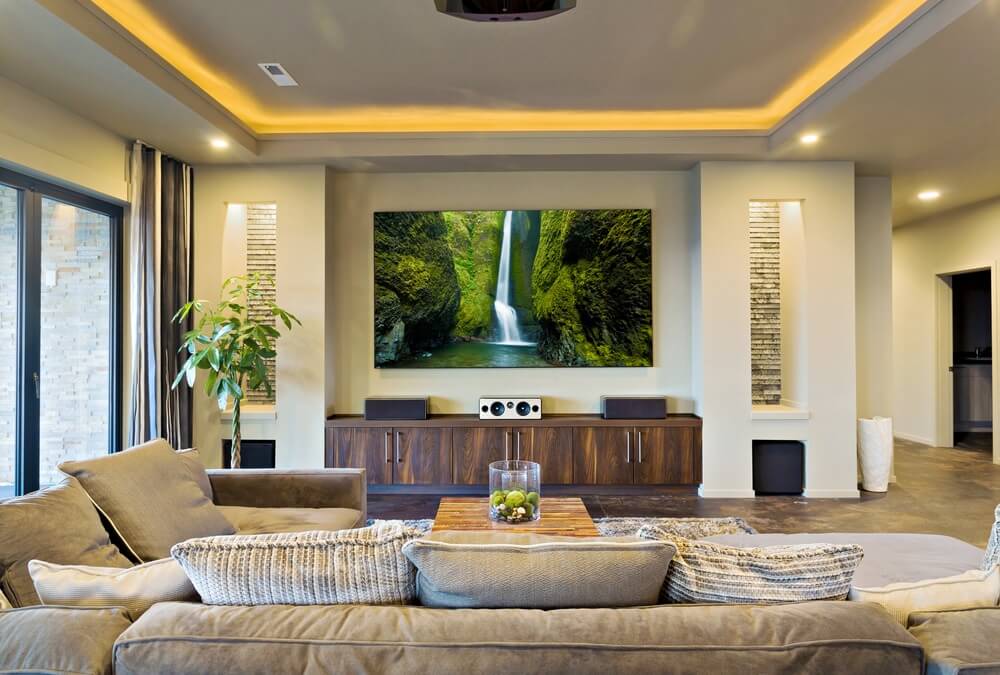 Whole Home Audio/Video & Automation Integration
We create new lifestyles. With our proven systems and expertise, we bring you to a place where technology can take control, and keep you from physically DOING everything! Set your system on morning, day or night preferences to make sure it takes the actions that you need it to. Whether that be thermostat control, lighting, gates, sprinklers, automated shades, security cameras, audio/video, home theater and more, control your entire home with your smart device in hand (Phone/Tablet). You'll have plenty of questions, and we will be sure to answer ALL of them.
Custom Design & Installation Options
 Audio Visual
 Custom Home Theaters
 Game Rooms
 Outdoor Entertainment
 Security Systems
 Home Networking
 Lighting Systems
 Thermostat
 Energy Management
Shades
Sprinklers
Gate
Pool
more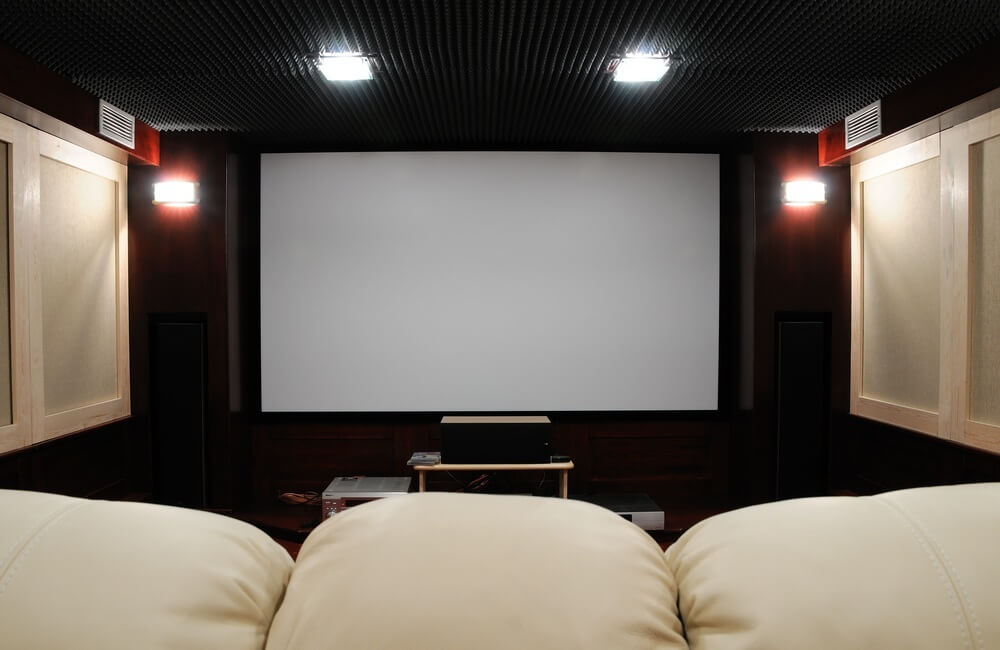 Main Living Area / Den / Living Room
The main living area is the room that sees a lot of foot and couch traffic. This space is often shared by the entire family, and there are often a whole host of A/V & Electronics devices that go into this room. We design this space for everyone in the family, if that is it's intended use. Whether it be integrating gaming consoles, blu ray player, surround sound, shades, automated lighting, and more, we will arrive and create the best ideas and matching technology to fit your particular space and needs. What our client like the most is that we are very good at routing all of the "ugly" electronic parts far away from view, and typically into a closet or cabinet, while using only one remote control, and infrared or wireless technology to communicate with the entire hidden system.
Custom Design & Installation Options
Audio Visual
Surround Sound Speakers
High Tech 3D & 4K TV's
Gaming Consoles
Blu Ray
Integrated Source Streaming over WiFi
Shades
No Sign of Electronics
One Remote Control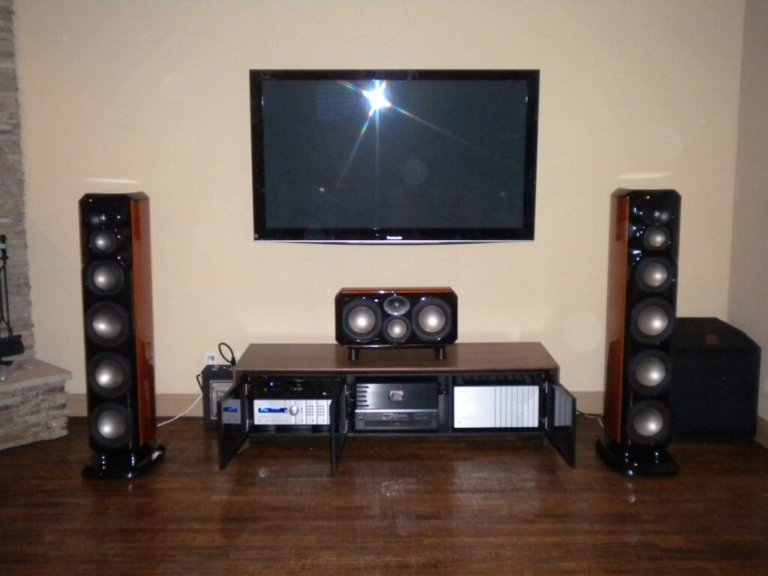 Home Theater/Media Room/Surround Sound
Cinematic experiences are not only for the cinema. In fact, you'll find higher quality sound, better picture, and more comfort in your own home theater room, when designed and installed properly. Lights, camera, action, high quality leather seating, and much more. Choose a full blown home theater room with the complete construction, lighting, seating, risers, etc., or just the electronic systems. We can lead you, or walk hand in hand, you decide. The options are vast.
Custom Design & Installation Options
TV or Projector & Screen (3D/4k options)
HiFi Audio (In Wall or In Room)
Subwoofers (In Wall or In Room)
Amp & Processor
Seating
Cabinetry/Furnishings
Smart Remote Control
Much much more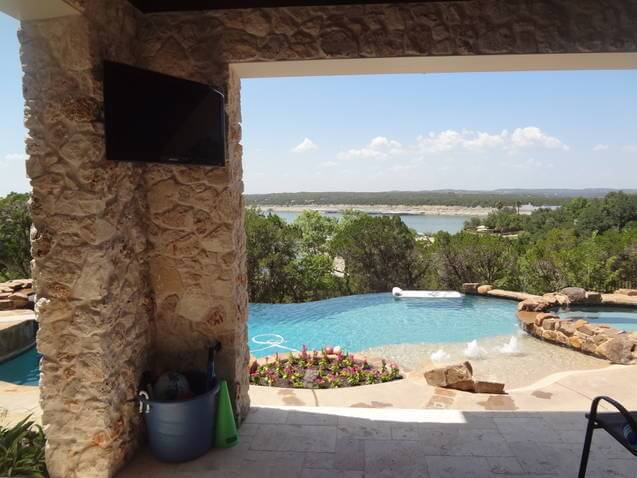 Patio / Porch / Pool / The Wild Outdoors in your backyard
Get the most out of your entire property, especially your backyard. We'll modernize it to match your pool, hot tub, and lush landscape. This space should be a haven to unwind and entertain guests, or just relax, get in touch with nature (especially if you have a view like the picture above of our client on Lake Travis) and let off some steam. Choose from in ground speakers, rock speakers, mounted audio systems, whole yard maximized audio designs, outdoor TV or projection systems, pool & sprinkler control, maximum security with high tech cameras, outdoor lighting and much more.
Custom Design & Installation Options
Full Backyard Audio System
Many Speaker Options
Security Cameras
Video Technology
Lighting Systems
Smart Control
more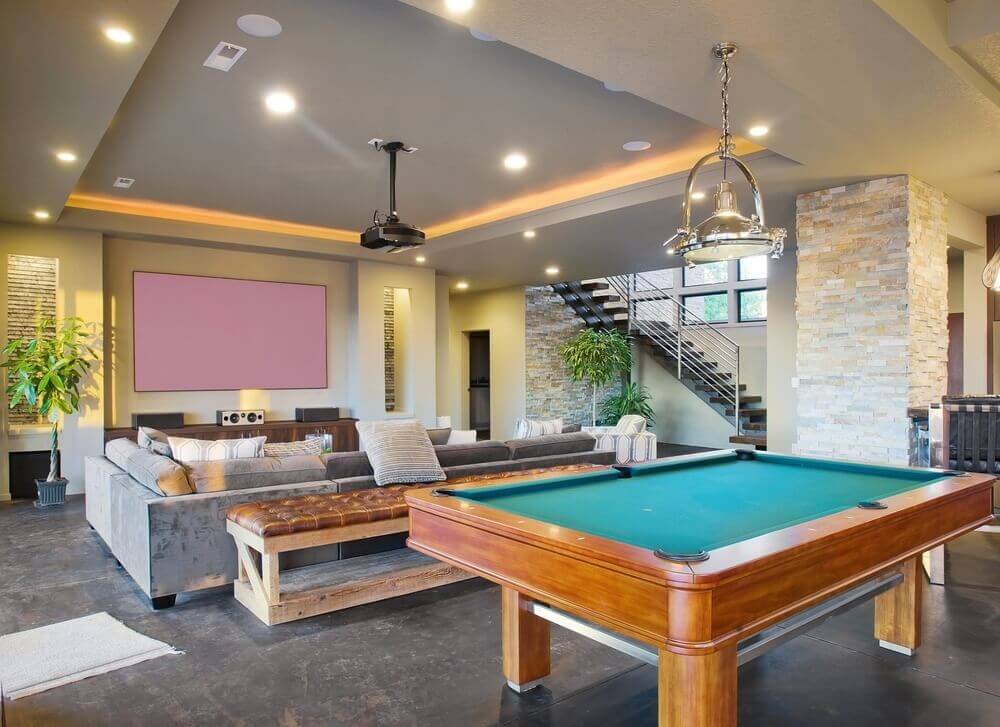 Game Room
Many of our clients like to line the wall with multiple TV's and sound to the maximum. They want to watch 5 games all at the same time, and follow the latest fantasy news and happenings. We're seeing a large trend in video distribution options as it becomes easier to integrate with cable companies' standards. Watch multiple games at the same time, and do it in high class. We can hide all of the electronics underneath your custom built bar cabinet space, or in a closet. Choose and projector and screen with a 5.1 or 7.2 home theater system to really add some punch and upgraded screen size to your play room.
Custom Design & Installation Options
Multiple Video Sources
Smart Home Technology
Sound Design
One Remote Control
3D or 4K Video Resolution

High Fidelity Stereo/Audio/Music
If you have been listening to or interested in the latest sound technology for years and years and love the world of HiFi, then you know about Home Stereo and Home Audio by way of 2 channel music, and who it's for. It's for guys and gals like you! Become entranced in some of our HiFi Audio Speakers built by many of the best speaker manufacturers around. Built for custom sound, for the discriminating individual, or just someone who wants high quality sound and a dedicated room to unwind and listen to their music at the best sound performance. You know who you are, and we do too, typically after the first phone call.
Custom Design & Installation Options
HiFi Audio Systems
Acoustical Treatment
Lighting Systems
Dedicated Media
Top notch accessories & equipment