CAPITOL AUDIO VIDEO always offers affordable professional prices in Austin, TX. Email INFO@HOMETHEATREAUSTIN.COM for an estimate or design consultation. This includes ALL Home Theater Installation, Flat Screen TV Installation, Flat Panel TV Installation, Surround Sound, In wall and In Ceiling Speakers, Audio Video Distribution, Home Automation System, Pre wiring for Surround Sound, and any indoor or outdoor Audio Video Installation Project.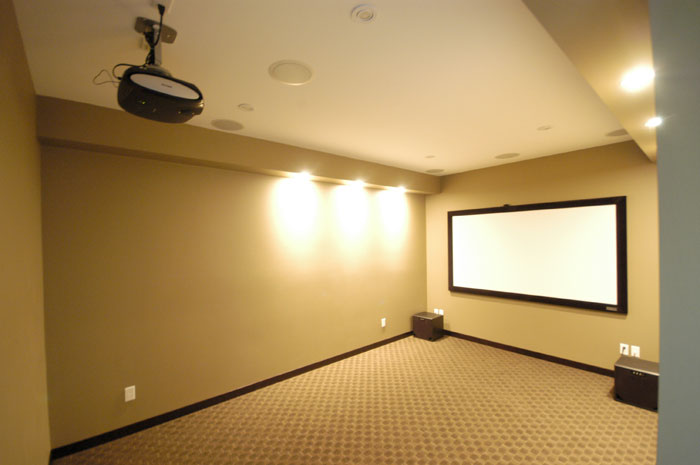 What we had to do to conceal the HDMI cable was take a extra long paddle drill bit and drill through 2 studs that were running sideways through the wall. This was difficult because we had to remove a larger than normal piece of drywall from behind the Flat Screen TV Tilt Mount to access clearance for getting to the studs.
So we took out the drywall and began drilling. Our 18V drill works well for whipping through studs rather quickly, and Adam has been doing Custom Home Theater, and Custom Audio Video Installation for years in the Austin and Central Texas Area. He's worked with Clients all over the Central Texas area. Some in Lakeway, Georgetown, Austin Westlake, Dripping Springs, Buda, Kyle, Canyon Lake, Marble Falls, Horseshoe Bay, Lake Travis, Pflugerville, Manor, Cedar Park, etc.. Adam knew the options and measures to abide by to keep the drywall patching to a minimum. In the end, we made it through both studs with minimal repair needed, and got the 52″ Flat Screen Installed properly.
Today we had a very interesting project to deal with. Bryan was a referral from another client that started in the Barton Springs area of Austin, then referred us to a friend in Georgetown, and then to another in a home in the Lago Vista area. Visit our homepage for more information Austin Home Theater and TV Installation.
We were Installing a Flat Screen Television that was 52″, and we had an older home in the Austin area to work with. The hurdle that we ran into was side studs within the drywall. Most studs run north and south, but sometimes "side studs" are in house walls, and they pop up occasionally in general. This is nothing like the excitement of drilling into a brick fireplace and mounting a flat screen, but its a challenge none the less.
Bryan wanted the wires hidden so he gave us the go ahead to cut a small hole which was then covered with a clean white faceplate and of course covered by the Flat Screen Television anyway. We ended up saving Bryan a couple hundred dollars. Many competitors would have charged him well over $700 for this installation including hardware, and in the end, we invoiced him for $399.99 with HDMI cables, Wall Mount and Labor included. Comparable Wall Mounts and HDMI cables are usually priced 35%-60% above our prices at Retail Stores. We have had relationships with many of our manufacturers for years, so AV Discounters offers affordable Top Quality HDMI Cables, Wall Mounts, Speakers, Sub woofers, Speaker wire, Volume Control Boxes, Logitek Remotes, and everything you could think of for LESS! We pass the savings to our clients.
We hope to have an opportunity to earn your business and save you money in the process. We are the alternative to big companies with high overhead, yet we have years of professional experience in the business. Email INFO@HOMETHEATREAUSTIN.COM for an estimate and design consultation. Flat Screen Installation Austin, TX. Home Theater Installation Services in Austin, TX.
Read more about what we do here at Capitol Audio Video!
Other information from Capitol Audio Video about Home Theater and Home Automation in Austin:
Austin Media Room Design, Installation and Ideas
Austin Home Theater Services at your request!
Austin Smart Home Automation Services!
Home Theater Company in Austin is Capitol Audio Video
Home Theater Design & Installation Austin HomePage
Austin Home Audio and Video Distribution Systems
Austin TV Wall Mounting Installation Information
Austin Home Theater Design with Construction and Professional Installation
Austin Home Theater Packages for your media room
Austin Home Theater Systems Custom to your needs
Austin Texas Low Voltage Network Wiring and Structured Cabling System for your New Construction Home